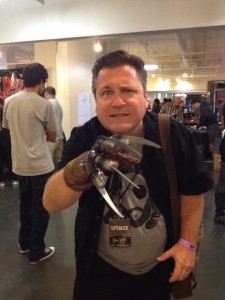 Jeff Tucker has been in the Theme Park Industry for over 20 years. He has written and directed many shows, including "Possessed" and "The Death of Dr. Cleaver" at Knott's Scary Farm. He was a contributing writer on The Hanging for 10 years and performed as Tommy Tomb. He was on the team that brought "Trapped" to life and has been the force behind the Knott's Scary Farm Facebook page for years, interacting with fans and stoking the fires of Haunt all year long.
In his private life he is the host of the popular podcast, "91 Reasons", a journey through the twisted landscape of pop culture. "91 Reasons" is downloaded all over the world and has become a cult hit among theme park and movies fans alike.
"91 Reasons" is proud to be a part of ScareLA by hosting an engaging look at Halloween, Trick-Or-Treating, and murder!
You can listen to new episodes of "91 Reasons" every week on iTunes and Stitcher.