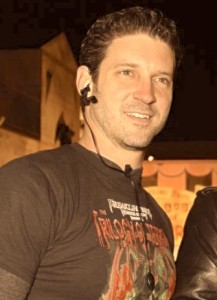 JT Mollner was born into a unique sort of family. His father, Duke Mollner, and reluctant mother, Ginnie, started doing a free Halloween Night haunt out of their garage every year in the late 70's: they turned him on to "all things frightening" from an extremely young age. The unique world of strobe lights, green floods, and fog machines is all JT has ever associated with Halloween… and he took to it like a fish to water. His dad put fangs in his mouth by the age of 3, and a fake hump on his back by the age of 7.
In 1992, the family started the first free standing commercial haunt ever to exist in the city and quickly became the industry standard in Nevada, expanding from 1 attraction to 3: all with different themes. Duke promoted his son from actor to manager in 2003, and by 2011 trusted him to come up with a concept and team up to design the attraction. The result was the 1st ever Rated R, Full Contact Haunted House in the state of Nevada: "The Gates of Hell".
​JT is now Vice President of Freakling Bros. Inc. as well as a designer and conceptualist for all new attractions. The father son team recently developed an immersive, utlra-extreme experience that, according to patrons, has pushed the boundaries of physical and ​psychological limitations to the brutal edge. This "art house passion project", now infamous worldwide and appropriately titled "The Victim Experience" has limited showings each year at midnight, during the month of October, and is a chillingly realistic test of endurance that relies on various forms of psychological, emotional, and physical discomfort.
Now JT spends 9 months out of the year in Los Angeles, writing and directing feature films, commercials, and music videos, and the other 3 months back in Las Vegas managing attractions and designing new scares with his father at "The Trilogy of Terror".
​Duke and JT are currently in the building phase of a brand new attraction, to be unveiled October 2015.
​
There's nothing he's more passionate about than scaring people during Halloween… and the fact that it's a family affair makes it all the more rewarding.