ScareLA returns on August 6 & 7, 2016. Founded in 2013, it was the first Los Angeles convention dedicated to celebrating Halloween. Situated in the entertainment capital of the world, it combines the city's top talent and unique cultural setting with a twist! Drawing fans and haunt entertainment professionals, the event features top attraction designers and operators, manufacturers, artists, filmmakers and more. The weekend-long Halloween season teaser will celebrate California's hottest scary faire with attraction unveils, workshops and classes, top industry panels, haunt experiences, screenings and activities. Share, inspire, play – ScareLA.
What you can expect at ScareLA
Curated collection of

exhibitors

showcasing scary goods, services & job opportunities
Expert and celebrity

panels

on the haunt business, horror entertainment and more

Presentations

of top and upcoming local haunts with sneak peaks and unveils

Performances

by local horror themed theatre companies and musicians
Professional

demos

of makeup, set building, costume creation, animatronics and more
Hands-on

workshops

taught by top haunt industry professionals for all skill levels and ages
Onsite  

interactive experiences

Screening room

showing premier attraction walk-throughs and local horror filmmakers

Games

, roaming monsters and more!
Who We Are
Scare master minds unite to bring you the best of Halloween in Southern California early. Creating ScareLA is not an easy feat and we are grateful for the many team members, partners, collaborators and volunteers who have spent countless hours to ensure your enjoyment.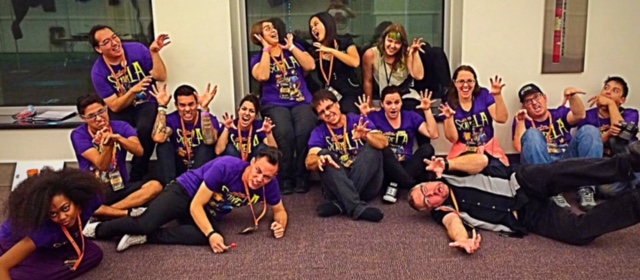 Thank you all, our fans, for supporting us as we work hard to create a truly unforgettable con to Los Angeles and bring you scare for summers to come!
Our team loves all things spooky and Los Angeles. We are proud to be a part of an amazing community of artists and creators who define the voice of the scare industry. We see ScareLA as the ultimate reflection of that industry – created by the West Coast scare innovators for fans of all ages.

Location
Hours
Registration Opens: 10:00am
Doors Open: 11:00am