Jeff Gustafson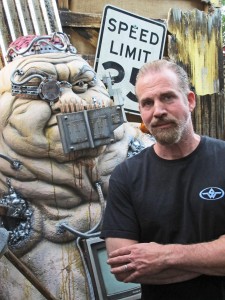 Jeff, growing up near the Hollywood area and Universal Studios was always surrounded by special effects. At the early age 8, his parents would take him to the now legendary Bob Burn's Halloween extravaganzasas. Wacthing countless horror movies, the Outer Limits series and visiting the greatest collection of SCI-FI memorabilia of the late, great Forrest Ackerman would all inevitably lead to a horror enthusiast in the making. Right out of school at age 18, Jeff started working at a Hollywood FX shop that contributed to creating the creatures for films such as Troll and Ghoulies. At the same time, he began collecting and preserving his own horror movie prop collection, including props from the "A Nightmare on Elm Street" and "Friday the 13th" series, along with current films such as AVP and others.
Every year on Halloween, Jeff's parents would make the rounds to all of the different haunted houses thoughout the San Fernando Valley, wheather it was at the women's club, Saint Finbar church, the local youth center or one of the many home haunts. It was also his favorite time of the year.
In 2003, the Gustafsons built their first attempt at a home haunt made from primarily black plastic and pvc pipe. It was a small selection of 3D paints and clowns built for relatives and friends, which changed greatly in 2004 when this nameless home haunt would open to the public and was titled "The Backwoods", a theme inspired by Knotts' Scary Farm's "Blood Bayou" that would grace the Gustafson's backyard up until 2012. Throughout the years, the home haunt began to evolve in every aspect, growing to enormous proportions. For their 10th year annivesary, The Backwoods clan introduced an all new post apocalyptic theme that seems to have a very eventfull future as the home haunt continues to grow from year to year.